$ 20.00
$ 25.00
Beard Bandana™ Blue/White
Regular bandanas have been a style piece for decades. However, providing protection against viruses/bacteria, bandanas can fall short. That is until now.
Introducing the Beard Bandana™. Designed to protect beards from small to large. Our patent-pending Beard Bandana™ design took the functionality of our original 3-layer Beard Tarp™, paired with Filti™ N95 equivalent patent-pending nanofiber filter inserts, and dressed it up with stylish bandana patterning (with a twist).
- Oversized OSFMB bandana(one size fits most beards). Measures 12 inches from nose bridge to end of bandana to protect even the longest of beards
- 3 layers of protection, made of breathable lightweight poly/cotton woven fiber material

- Patent-pending design includes hidden Beard Tarp™ harness & hidden loops system that transforms the Beard Bandana™ into a supportive mask for all-day protection and comfort without readjustment 
- Hidden filter pocket with replaceable Filti™ insert (included), a 3-layer filter material that is engineered using patent-pending nanofiber technology that is highly efficient (up to 95%) on sub-micron particles, including bacteria and viruses*
- Removable/replaceable aluminum nose bridge strips (included), creates a more custom fit to the nose for fog-free glasses
- Proudly designed and made in Canada
*The Beard Bandana™, is a reusable, non-medical mask. Always Bearded Lifestyle™, Beard Bandana™, Beard Tarp™, and Filti™ make no warranties: either expressed or implied, that this material or masks made from it prevent infection or the transmission of viruses or diseases. 
Customer Reviews
Write a Review
Ask a Question
10/06/2021
Derek M.

Canada
Bearded Bandit
Nice quality bandana! It's definitely more then the average bandana for sure, but it's so much better. I got 2 now!
08/27/2021
Rod W.

United States
Bandanna mask
I love it. I love that it's made with a filter. A regular bandanna isn't efficient enough these days.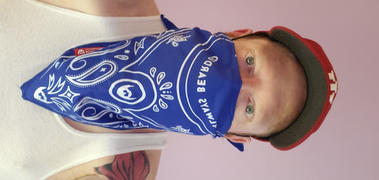 08/05/2021
Russell M.

Canada
Best beard bandana
Always top quality products. Which is why I keep coming back!